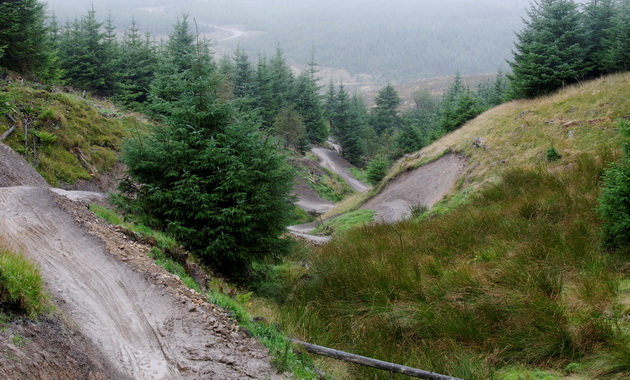 Description:
SingletrAction were approached by Ed Oxley (Great Rock MTB Skills) [www.great-rock.co.uk] and Tim Gridley (Dog and Partridge pub) [www.dogandpartridgetosside.co.uk] to assist in planning and liaison with Forestry Commission to develop a section of "skills trail". SingletrAction developed a conceptual design:
[GisburnSkillsArea-STAConceptualDesign.pdf]
Subsequently Rowan Sorrell of Back on Track [www.back-on-track.org] prepared the following document:
At the time of writing (September 2010) Ed and Tim are organising dig days to build this first section of trail. SingeltrAction are helping our wherever possible.
If you want more information please take a look on the forum [SingletrAction Public Forum Gisburn]. Post up any requests there if you can't find what you're after.
Developments at Gisburn aren't strictly a SingletrAction project. However, this is a good example of what we're all about. We just want to see trails happen; wherever, whoever, however. We hope that by providing a location for information and giving the volunteer efforts at Gisburn publicity that this will help.
Afterall, one daft bugger mucking about in the woods is much the same as any other 😉
Directions:
Pictures:
no images were found
Downloads:
Weather:
[awesome-weather location="slaidburn, gb" units="C" size="wide" override_title="" forecast_days="5″ hide_stats=0 custom_bg_color="#aaaaaa"]
Trail Map:
[map gpx="http://www.singletraction.co.uk/gpx/trailmap-gisburn.gpx" download=yes maptype=satellite]
Sponsors, People and Thank you's