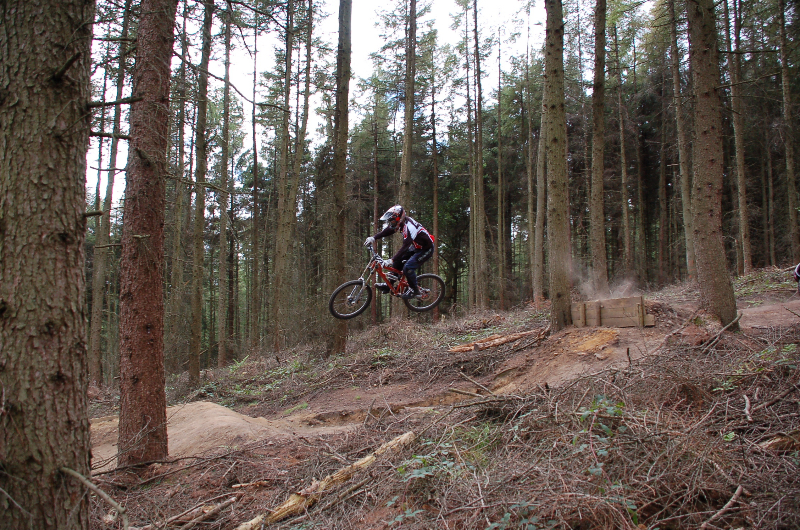 Description:
The summer of 2006 saw a new Downhill track appear on the Yorkshire scene.
The location? Silton forest, situated just north of Leeds near Northallerton, about 40 mins drive from Leeds.
The track itself is packed full of different sections. It starts off open and fast with a rather large step down, then moves into some fast tight corners before dropping you onto a fire road sprint into the woods again. Once across the fireroad your met by narrow singletrack full of roots and rocks, particularly tricky if its wet! Things start to get a little steeper and more tech on the run up to the second fireroad. Once across the fireroad your met with a tough stump field and a few tight berms. Once through these you are greeted by a bit of a line choice. You can either drop straight off the "elevator" and ride the fast off camber stuff or you can run wide and ride the newer more technical off camber high line which eventually spits you onto a new rock garden which leads to the original track. Finally you cross the berm/bridge, sprint to the hip, sprint to the step up, rip the final berms and sprint at the final double.

Directions:

Travelling north on the A19 take the right hand turn off the motorway signposted to over Silton. Be very careful on this turning as the sign is very late and you need to brake pretty hard as the slip roads quite short. Follow the road through the village and past an old church in it. Drive with the forest on your left until a very tight left hand turn with houses opposite. Take this left follow this road/track all the way to the car park.
Pictures:
Downloads:
No files or folders in this directory:
Weather:
[awesome-weather location="silton, gb" units="C" size="wide" override_title="" forecast_days="5″ hide_stats=0 custom_bg_color="#aaaaaa"]
Trail Map:
[map gpx="http://www.singletraction.co.uk/gpx/trailmap-silton.gpx" download=yes maptype=satellite]
Sponsors, People and Thank you's