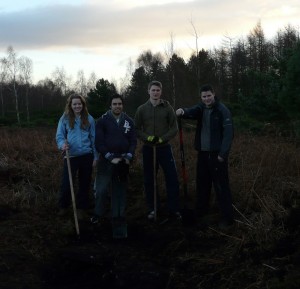 We must be doing something right yet again, because for the second time this year we've had volunteers from LLoyds TSB wanting to help us out on a dig day.
Back in June we had a group of volunteers help out repairing the jumps at Thackley, everyone seemed to have a great time and we got loads of work done.
We were please to be contacted by another group from Lloyds TSB's grad scheme a few weeks ago, wanting to get a taste of what SingletrAction do on our dig days.  We could have picked any one of our current sites but thought it would be the perfect opportunity to continue the good work we've already started at St Ives In recent months.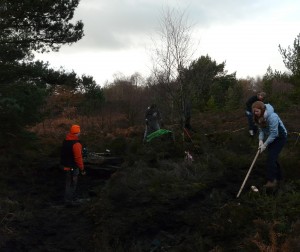 We all met up early on Monday morning and despite the cold everybody soon warmed up when we stared working.
There was plenty for us to do, starting by re digging a section who's sides had collapsed in, once we'd done that we decided we'd earned a short tea break.
We then started on the biggest project of the day which was a whole new 'Chicken' line for less confident riders to get round a 1 foot step up.  Once we'd finished that it was time for lunch.
The final job for the day was to continue digging from where we left off at the last dig day.
A big thanks to all the volunteers from Lloyds TSB for helping us get a bit further along in this worthwhile project.  Also thanks to Tim, Paul, Knacker and Dave for helping out too.