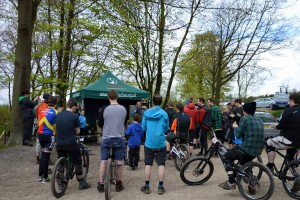 And we're done… What a day, wind – rain – sun – gnar – awesome.
SingletrAction's 3rd Chainless challenge is over, and wow, what a day, what race. We never tire of seeing how seriously people take it. We promise, you'll never ride these trails the same again. Nor should you… Chainless IV may well be later this year…
Our unlimited and undying thanks to the Riders (as always you made the event), the marshalls (couldn't do it without you, literally), trail building volunteers, (there'd be nowhere to do it without you) and our event supporters Stif Cycles, CrossTrax, Squirt Chain Lube, PRO RIDE mountain bike coaching and Chevin Cycles (without you and your prizes it would all end on a damp squib).
Extra thanks to the Hull family who baked the deliciously tasty treats, Forestry Enterprise for letting us build the mental stuff that is Stainburn in the first place and who ever it actually was who invented the bicycle… we owe you!!!
See some more pics after the break! Oh and check out our facebook page for even more images. https://www.facebook.com/SingletrAction