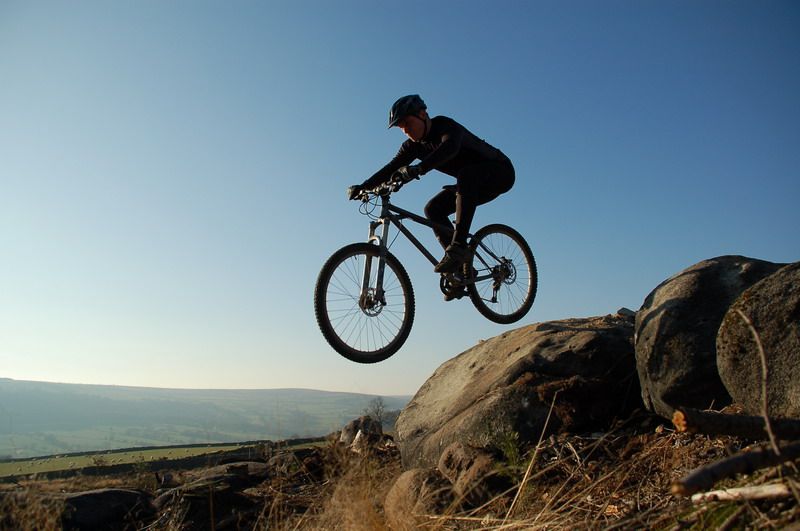 Description:
Three trails plus a small Pump track. The pump track was one of the first in the UK and has had years of heavy use and is in need of repair/rebuild which is planned for later in the year.
Don't be put off with the short distances of the trails, they are designed to be ridden more than once, each time riding obstacles you missed first time round… 4Km Warren Boulder Trail – This is a man made trail built to the highest specification by SingletrAction. You can expect the most severe of descents and the most difficult of climbs. (Toughest Black Trail in the UK?).
Highlights include 'The Slab' an early test of your nerve, 'Hovis Corner', (I still daren't tackle it!) all too quickly followed by 'Cascade'. The infamous 'Coal Chute' and some very testing Woodwork inc a Seesaw.. In fact the whole trail as the name suggests is littered with rocky challenges.
'Don't Push Me' is the climb in the trees on the return leg, a real treat for those who love a technical climb.
Think of it as a place to learn, don't be surprised if it it bites back and be prepared to become addicted to its challenges. (Warning, you may become a better rider…) This is the place your Hardcore Hardtail or All Mountain Bike was designed for.
2Km Our lil' ole Red Loop complete with techy boulder challenges to get you ready for the WBT. We call the outward leg 'First Blood' and those big rocks at the edges of the trail are mostly meant to be ridden over so keep your eyes peeled!
Watch out for the Knackerator log rides on the return leg, accessed from the sweet bermy section, a real test of your balancing skills!
Its only short so ride it two or three times or spend some time trying to nail the skinnys.
1.5m The Descent Line, a Red trail accessed from the highest point of the Red Loop. The middle section was built by Clixbys.
As the name suggests this is down hill all the way but is not DH. A collection of sweet drops and corners with more than a smattering of those ever present Stainburn boulders. Starts off in the trees with a mixture of corners, some bermed, some flat, some loose then its out into the clear felled area and onto the boulder fields to test your ability to 'ride light'. After that gravity takes over and the berms get bigger so its off the brakes and onto railing corners, grins are mandatory.
Keep your eye out for the big rock roll in the middle or drop it if you dare?
Over the road…
The Norwood Edge Trails are natural trails that have been discovered and cleared by SingletrAction. The main trail runs in a clockwise direction around the area. Cross the road from the car park, through the gate and turn left (following the yellow marks).
Since logging work some older trails have yet to be fully re-established but some new one's have appeared, follow your nose and enjoy the Ying to Stainburns Yang.
Please do not build your own stuff as you may jeopardise all future trail building.
FC class it as an informal trail, as such it cannot be built "properly" i.e. fully armoured construction like those over the road. Nor are we supposed to signpost it. However, by following the old yellow paint squares and yellow flagging tape on trees and keeping an eye out for stone cairns at various junctions then it can be navigated fairly easily (to be honest, you can just ride round the wood but we think this loop works best). If you need more advice please ask in the forum . The loop is intended to be ridden in a clockwise direction.
A word of warning about the map: it isn't 100% accurate but gives a very good indication of brashed trails on the ground. The loop marked with a "4", to the north of the Telecoms mast is not really cleared (as of August 2011). Instead, follow the existing / old trail shown as a black dashed line on the paln which runs east to west next to the spot height label "291".
We suggest you start from the main car park (Forestry Commission style sign "Norwood Edge Car Park" off the Pateley (B6451) road). Opposite the entrance to the car park, on the other side of the road, is a timber bar gate into the Norwood Edge Plantation. Enter here and within approximately 20 metres turn left to take a very rooty, contouring trail that runs roughly parallel to the road. Watch out for an acute turn right that starts the proper climb eventually leading onto the haul road above Norwood Crag. You've missed this turning if you get to a very boggy section with a rock causeway across it. Just turn back on yourself to find the turning.
The haul road above Norwood Crag has a number (currently four at time of writing, August 2011) of rock cairns to mark junctions. Hopefully these will help you to navigate and feel free to add to them if the inclination takes you.
Another word of caution; there are several even-more-unofficial-than-ours trails in this side of the woods. We and the Forestry Commission are aware of them. In some cases they're no more extensive than what we have brashed but they have a habit of including jumps and technical features which are often built badly, either in terms of durability or technical design. They can have pits, be prone to collapse or are not rollable (for those not prepared to commit).
This building gives us all a headache and jeopardises things for SingletrAction with FC. By all means enjoy what's there but please do not build stuff without permission. We aren't "the man" but we do have a relationship with FC that has let us develop what we've already got in these woods. If you like that then please hold back from unofficial building. Even if you don't like it bear in mind quite a lot of people, over a long time have put in a huge amount of effort to create the trails we have to date and possibly they might know a little bit better or more about things. It might be worth engaging with us and having a little respect 8-)"
There is method to our madness. First we have to finish what we have started, ie, the Descent Line extension (Stop Press: its finished but will no doubt need tweaking!). Then we can start on Norwood, where we have permission for brashing but no building. If you are in a hurry to start on Norwood then come and lend a hand over the road…. Plus in amongst we need to do some urgent maintenance on the DL and extend the Pump Track!!!
Parking is free as is riding, but if you join SingletrAction then your membership fee goes straight back into trails and projects like these.
Directions:
Pictures:
Downloads:
Weather:
[awesome-weather location="Otley, gb" units="C" size="wide" override_title="" forecast_days="5″ hide_stats=0 custom_bg_color="#aaaaaa"]
Trail Map:
Red Route
[map gpx="http://www.singletraction.co.uk/gpx/stainburn-red _berms.gpx" download=yes maptype=satellite]
Black Route
[map gpx="http://www.singletraction.co.uk/gpx/stainburn-black.gpx" download=yes maptype=satellite]
Red Descent Route
[map gpx="http://www.singletraction.co.uk/gpx/stainburn-red_descent.gpx" download=yes maptype=satellite]
Sponsors, People and Thank you's
Warren Boulder Trail Key to Sponsored Sections and Features
Features
01. Slab – Section sponsored by Boneshakers bike shop, Harrogate.
02. Spine – Section sponsored by Boneshakers bike shop, Harrogate.
03. Tom – sponsored by Metcom Skidmark.
04. Dick – sponsored by Metcom Skidmark.
05. Harry – sponsored by Metcom Skidmark.
06. Steps of Terror – sponsored by Metcom Skidmark.
07. Arrow – sponsored by Metcom Skidmark.
08. Wall of Death – sponsored by Metcom Skidmark.
09. Humpback – sponsored by Hope Technology.
10. Hovis Corner – sponsored by Hope Technology.
11. Cascade – sponsored by Hope Technology.
12. Cole Chute – sponsored by Cole Construction.
13. Chevin Psyclopath – sponsored by Chevin Cycles of Otley.