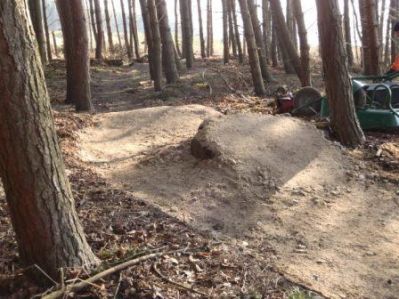 I don't even think about crawling back in today because Iam determined to throw the bike in the van and grab a blast down the Descent Line before the dig begins.
I make the car park for 8.45 so after giving some Stainburn newbies some 'which trail first' advice I take the Red to the top of the DL.

The last time I rode the DL I hated it and that was on my Hemlock. Washed out, blown out, stuttery mess was my conclusion. Since then we have finished the extension and massively improved the boulder field. We have created three line choices round the big boulder drop and started the process of smoothing / improving each section.
I took the hardtail to highlight any nastiness. Wow, what a difference, smoother, sweeter and with added flow. My advice is leave that big daft bike at home and pack your hardcore hardtail. Forget all that mad pedalling and get pumping & jumping…
Couldn't go without testing myself with a run up the Black climb and a quick go on the top section of the WTB.
Perfect start to a Trailbuilding day.
The troops were gathering in the car park. In fact early birds Guy, Paul & Christian were already hard at work. As usual Guy was wielding a sledgehammer and smashing the living daylights out of anything that stood in his way. It seems testing bikes must be a very frustrating business!
At the moment we are enjoying the nicer side of trailbuilding. Each dig we're taking individual sections and adding both smoothness and a little spice. No leaving things half done. Assess, discuss, dig, add rock, hardcore, tamp, et voila, perfection!
Very satisfying indeed.
We resurfaced the berm before the boulder field after Guy had performed some delicate surgery. It should now hold you tighter than a Yorkshireman.
Added a rollable double before you leave the treeline which our resident tester nailed with extra flair.
Then we really went to town on the rock drop a little further up. You now have two choices. Ride smoothly around it or let fly and clear the whole damn lot!
As I said, very satisfying indeed.
More information on today can be found here.
More photos of the day can be found here.
Next dig is this month on Sunday the 20th so if you like what we've done and want to help us finish it off then we'll see you then. Click here for more info.
I also bought a rather lovely SingetrAction pewter headbadge for my On One Slacker.

Yours for a tenner, see Cheeky Monkey if you're interested.

Big thanks to

Knacker
Wannabrew
Moe
Jase
Cheeky
Paul Stokes
Guy
Christian

Who all now have another chance to win in the Dig for a Pig comp. Last chance in March!!