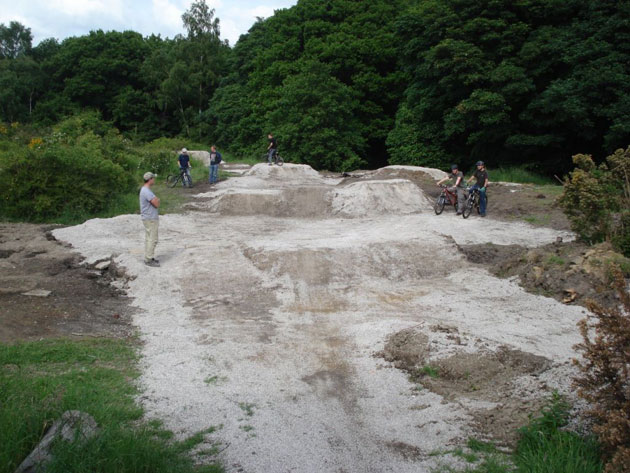 An Urban Skills area on the outskirts of Bradford. Buck Woods consists of a collection of jumps and drops for the beginner through to the advanced plus a hand crafted pump track.
Description:
Buck Woods is a large oval with jumps for all levels from beginner to expert. Think tabletops / doubles rather than those large 'backflip' style jumps. A place for the cool young guns and daft old dads to hone there undoubtebly natural talents!
The brainchild of Dr Christine & Norman Alvin (Friends of Buck Woods Society & Ed Battye (Crosstrax). They decided that this previously rather useless area of the wood next to the railway tunnel needed an overhaul. For decades kids had built little jumps and a project with a Bradford BMX club never really came off so plans were cooked up and money was raised via Bradford Council.
This is where we got involved and along with some locals Buck Woods Urban Skills Spot was born. The place is still being tweaked as it settles by both us and the kids who ride there regularly.
A popular place to start a ride around the local woods of Calverley, Esholt & Buck Woods and a great place to polish those 'massive air skillz'….
Thankyou to:
Dr Christine & Norman Alvin
Ed Battye
Matthew Pearman (Bradford Community Enviroment Project)
Craig Smith, Tim Sellors & Nick Burgin (SingletrAction) design, drive & pump track. Plus a lump of our precious funds.
All the other silly buggers that turned out again & again till the project was complete. We don't mind admitting that the 300+ Voluntary man hours we have already put into this project nearly broke us…
Directions:
Found just off the A657 Leeds Road in the heart of Thackley nr Thackley Football Club. Turn down Thackley Road then bear right down Ainsbury Ave. Look out for a wide gate on your left as the wooded area starts.
Parking is free as is riding, but if you join SingletrAction then your membership fee goes straight back into trails and projects like these
Pictures:
Downloads:
Weather:
[awesome-weather location="Calverley, gb" units="C" size="wide" override_title="" forecast_days="5″ hide_stats=0 custom_bg_color="#aaaaaa"]
Trail Map:
[map gpx="http://www.singletraction.co.uk/gpx/trailmap-buckwoods.gpx" z=12 maptype=satellite download=yes]
Sponsors, People and Thank you's